Are the loops free and royalty free?
Yes. The 10 loops which are available for download via the download bar are free.
Each drum song on the website contains 10 free loops.
Any user who is interested in the rest of the loops pertaining to a drum song will be able to purchase them on the product page.
The loops are not copyrighted and you may use them in any media you desire.
This includes original songs, playbacks and karaoke, ads and jingles, movie soundtracks, background music, social media clips and any other digital media.
As long as the loops are used for the purpose of creating music, please feel free to use them in any way.
What quality are the samples?
The free loops are of mp3, 192 bit/sec, stereo quality.
The loops which are for sale are of wav, 44.1 khz, stereo quality.
Do I need to register in order to download loops for free?
Yes. You must enter a valid email address in order to enjoy our free loops downloads.
Your email will be kept confidentially in our system, and used only to keep you updated regarding new loops and sales.
Where are the loops ? i paid and i don't see them, where is the download area ?
After paying using paypal, the system will go automatically to the download area.

If it does not go automatically, just press on your name (next to the site logo) and it will take you to your personal area,
there you will see all the products that you bought.(all so the free loops that you put in the cart)
If there is still a problem with that, please contact as.
Why does the same drum song appear twice, with parentheses in which (time pitch) appears?
This means that the drum song underwent time pitch using s.s.l. system algorithms, which allow for speed compression with minimal loss of sound quality.
After working with a number of sound arrangement programs I have found that s.s.l. Soundscape system works best.
Because of the time pitch this type of drum song will be sold for 50% less than the original drum song.
Are the loops mastered?
No. At the time of mixing each drum channel was treated with an equalizer, compressor, gate and reverb effect.
The complete drum channel summary was recorded clean to a stereo channel, and was normalized at the last stage of the recording, before being cut into loops, so that you are still able to stylize the sound loop as you wish, and control its dynamic.
At the conclusion of the project, at the arrangement mastering step, the drums will stick to the other instruments and will feel like an integral part of the arrangement.
Who should I credit when using the loops?
We would appreciate it if you credit us when using the loops in your creations.
You can credit www.free-drumloops.com
How can I download the free loops?
On each product page you will find the download bar with ten square buttons, designed like a drum machine. Pressing each of these buttons will automatically start the download of the loop beneath it.
* Download will be possible for registered users only.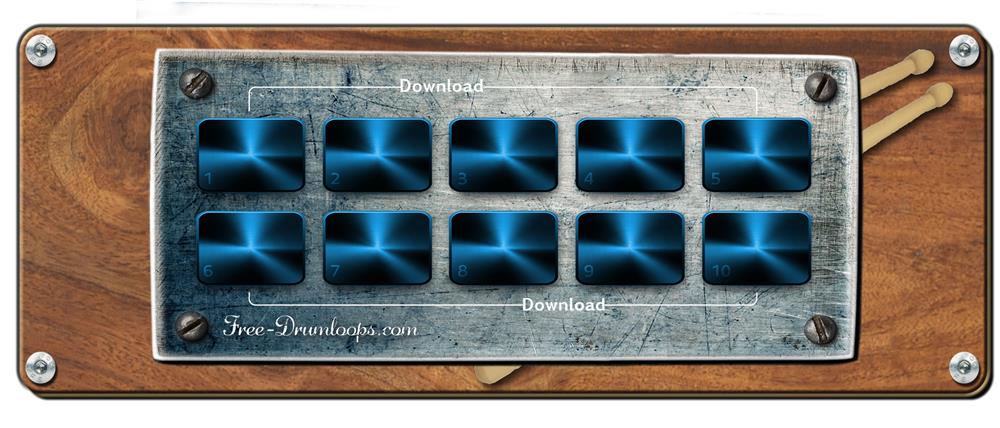 Who are the loops intended for?
The loops are meant for anyone dealing with music, and particularly those who use computers to create music. They are suitable for amateurs as well as professionals; some will be inspired to create a certain arrangement, others will use the loops to compose jingles or television ads, while others might just want to practice an instrument and use them for rhythm.
The most important thing is that you create music, and have fun doing it!
Are the loops real or computer samples?
The loops are 100% real, played by professional drummers.
No electronic drums were used.
No triggers were used to replace live drums with samples.
How do I subscribe/unsubscribe to the mailing list?
Registered users can update their information, or unsubscribe from our mailing list in their account settings.
If you have only downloaded free loops, and never purchased on the website, you can email us and request to be removed from our mailing list.
If you have chosen to opt out of our mailing list, but are still receiving emails from us, please let us know and we will remove you from our mailing list within 10 days.